Eyelids corrections
---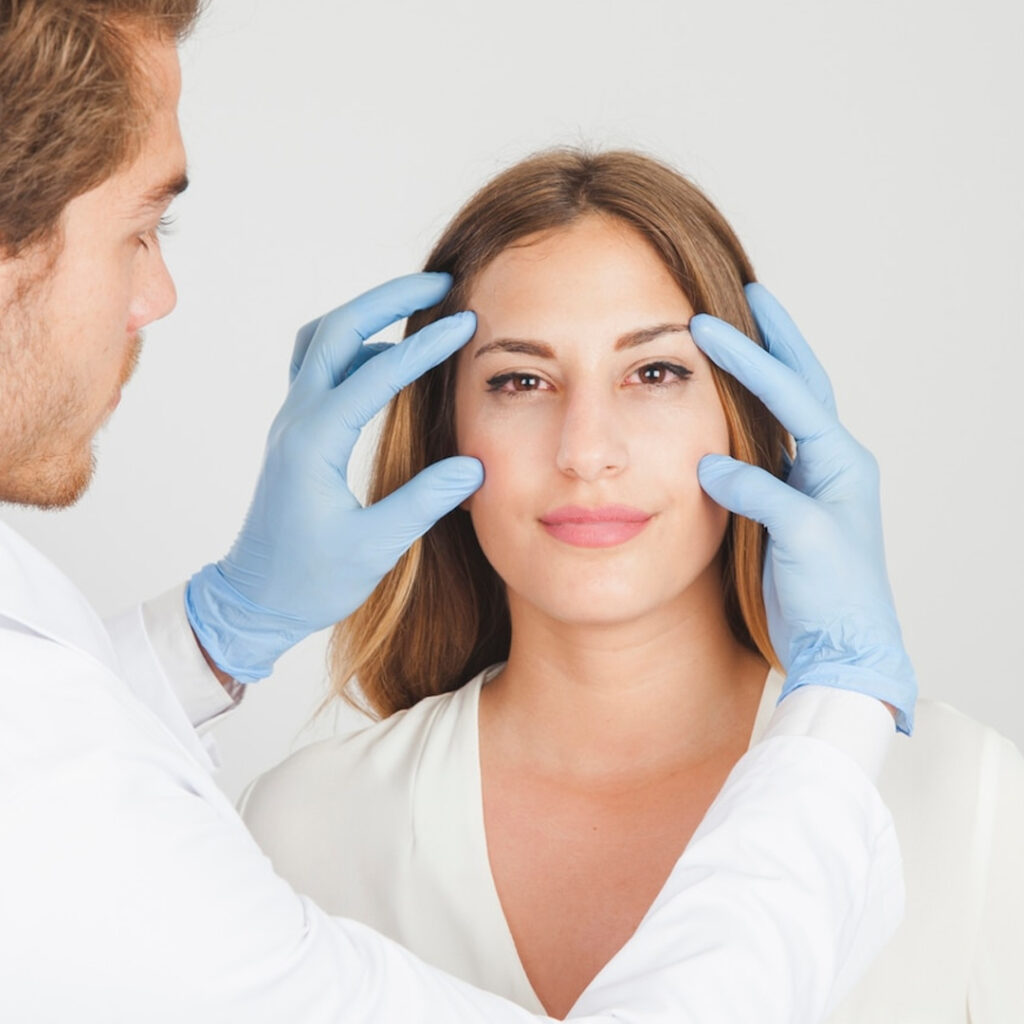 Correction of drooping eyelids – blepharoplasty, is one of the most popular aesthetic medicine procedures. Surgical lifting of the eyelids is the only effective way to restore a young look. Read more about blepharoplasty offered at NewU Institute in Warsaw!
Upper eyelid blepharoplasty
Doctors agree that eyelid surgery is currently the most effective treatment to get rid of the problem of ptosis. Patients decide on it not only for aesthetic reasons, but also for health reasons. At NewU, we had a Patient who had to lift her eyelid with her hand while driving a car to have a full vision. Our patients often complain about the feeling of tired eyes, but it doesn't have to be that way.
Eyelid ptosis – causes
The older we get, the more our skin ages. Each of us is aware of this process, but not everyone knows what health problems may be associated with it. And although ptosis is usually a matter of age, it must be remembered that it can also occur in younger patients, e.g. as a result of genetic predisposition. Drooping of the eyelid affects the deterioration of our vision, narrows the field of vision, and when we move our head forward to see better, it leads to degeneration in the area of ​​the cervical spine. We involuntarily raise our eyebrows and wrinkle our foreheads to widen our field of vision and reduce the feeling of weight on our eyelids.
Correction of drooping eyelids – what does the procedure look like?
Drooping of the eyelids requires surgical correction, which is preceded by medical consultations. Read about the blepharoplasty procedure before you make your decision. Eyelid correction is performed using the Loktal medical device. It is worth noting that this is not a laser correction, but a radiosurgery. It differs in that it minimizes the risk of hypertrophic scars, does not damage side tissues and is very precise. Loktal is used by doctors in the best medical facilities around the world.
After procedure
After blepharoplasty, the problem of drooping eyelids disappears completely. Correction is permanent and is usually done 1-2 times in a lifetime. After the procedure, a formed scar can be reduced by radiofrequency treatment.
Blepharoplasty at NewU Institute
At our institute, we perform both upper and lower eyelid surgery. We work with masters in their field, and the irreplaceable doctor Anna Ptasiński is in charge of oculoplasty. If you are looking for a proven address in Warsaw to perform blepharoplasty, you've come to the right place.
Opinions
Opinions after eyelid correction surgery are very good. Patients say that this procedure has changed their lives – it has improved self-acceptance and comfort of life. The feeling of heaviness on the eyelids has disappeared, Patients are happy with the possibility of applying eye makeup, which was previously difficult, the look seems 20 years younger!
| Treatment | Price | – |
| --- | --- | --- |
| Upper eyelid blepharoplasty and scar revitalization | 3 500 zł | – |
| Blepharoplasty of the eyelids / doctor Anna Ptasinski | 3 800 zł | – |